Forging the Shelby Cobra: The Men that Built an Icon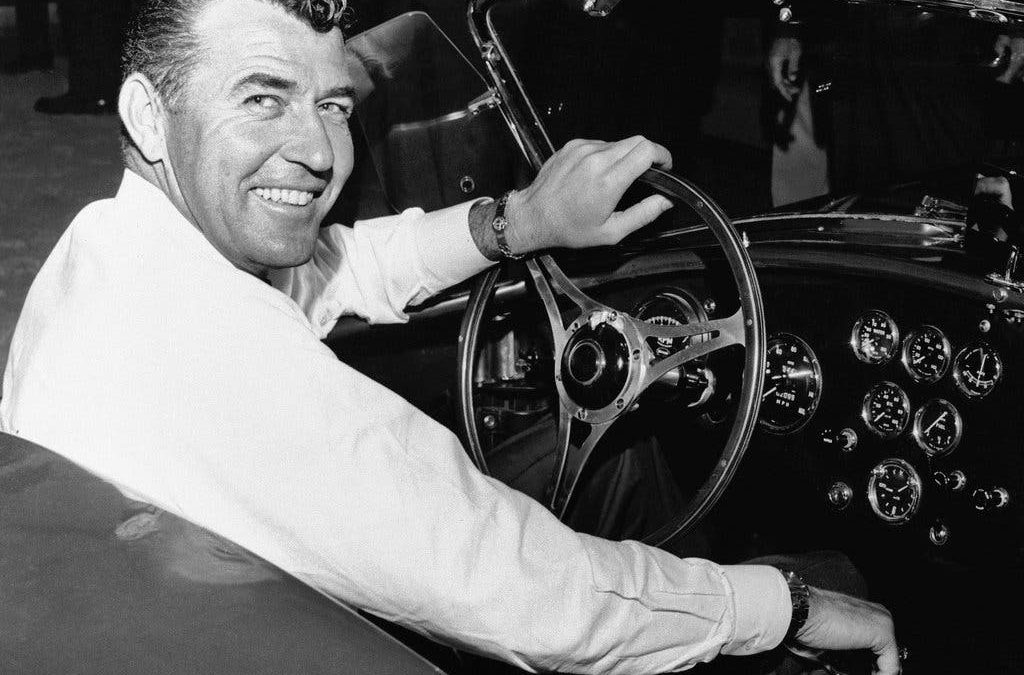 In the annals of American automotive history, few names roar louder than the Shelby Cobra—a machine birthed from raw ambition, high-octane innovation, and an insatiable hunger for speed.
Purchase Information>> Diamond Edition Shelby Cobra For Sale
Yet, as the tires smoke and the engines growl, we must not overlook the men who breathed life into this mechanized marvel. From Carroll Shelby, the audacious dreamer, to Ken Miles, the British racing maestro; from Phil Remington, the engineering wizard, to Peter Brock, the design savant—these luminaries did more than just create a car. They etched a permanent groove in the American zeitgeist, blending engineering prowess with unyielding courage to shape not just metal and rubber, but the very essence of a nation's ambition. This is their story—a saga of vision, tenacity, and the relentless pursuit of greatness, all coiled up in the powerful form of the legendary Shelby Cobra.
Carroll Shelby

Carroll Shelby was born on January 11, 1923, in Leesburg, Texas, and grew up to become one of the most iconic figures in the automotive world. Starting off as a chicken farmer, he quickly transitioned into a successful career as a racing driver, competing in a variety of motorsports disciplines including Formula One and endurance racing. Known for his tall frame and a distinctive black cowboy hat, Shelby gained fame for winning the grueling 24 Hours of Le Mans in 1959. However, heart issues forced him to retire from racing, allowing him to focus on his true passion—automotive design and engineering.
Carroll Shelby's name is synonymous with high-performance American muscle cars, most notably the Shelby Cobra. After his retirement from professional racing, Shelby founded Shelby American Inc. and began working on transforming the British AC Ace into what would become the Shelby Cobra. Teaming up with Ford, he used their V8 engines to power his designs, resulting in some of the most powerful and iconic roadsters ever built. The Cobra went on to dominate both American and international racing circuits, affirming Shelby's genius in automotive design. Carroll Shelby didn't just create cars; he created American legends, leaving an indelible mark on automotive history.
Ken Miles
Ken Miles was a British-born racing driver and engineer with an incredible knack for both driving and understanding the mechanical aspects of a car. Born in Sutton Coldfield, England, on November 1, 1918, Miles served as a tank commander during World War II before transitioning to a career in auto racing. He moved to the United States in the early 1950s and became an important figure in the American sports car racing scene. Known for his technical insights as much as his driving abilities, Miles had a reputation for being able to tune a car to perform at its best.
Ken Miles' association with Carroll Shelby and Shelby American Inc. was pivotal in the development and racing success of the Shelby Cobra. The two first met during a race in Southern California, and their professional relationship soon took off. Miles was instrumental in developing the Cobra, helping to fine-tune its performance, and making it a formidable opponent on the racetrack. He notably competed in the 24 Hours of Le Mans for the Shelby American team, and although he didn't win, his contributions were invaluable. The pair's collaborative work laid the foundation for some of the most iconic cars in American automotive history, making Miles an essential part of the Shelby Cobra legacy.
Phil Remington

Phil Remington was born on January 22, 1921, in Santa Monica, California, and became a highly respected engineer and fabricator in the American automotive and motorsports industries. Serving as a gunner in World War II, Remington utilized the mechanical skills he gained to forge a career in automotive engineering. He worked for several racing teams and was involved in a variety of motorsport disciplines, from IndyCar to NASCAR, which made him one of the most versatile and sought-after engineers in the field.
Phil Remington's relationship with Carroll Shelby and Shelby American was instrumental in the development and racing successes of the Shelby Cobra and other Shelby-branded cars. Remington joined Shelby American in 1962 and was pivotal in turning Shelby's high-performance car ideas into functional, race-winning realities. Known for his problem-solving skills, Remington played a key role in the development of the Daytona Coupe, which was based on the Cobra and became a formidable force in endurance racing. His ingenuity and technical expertise made him a cornerstone in Shelby American's race car engineering efforts, contributing significantly to the legend of the Shelby Cobra.
Peter Brock

Peter Brock was born on November 3, 1936, in Cleveland, Ohio, and quickly developed a passion for cars and design. He attended the ArtCenter College of Design but left early to work for General Motors. However, his tenure there was short-lived, and he found himself more attracted to the racing world. Brock became a pivotal figure in American automotive design and motorsports, contributing not just as a designer but also as a team owner and journalist.
Peter Brock's role in the Shelby Cobra story was as the designer of the Daytona Coupe, a closed-roof version of the Shelby Cobra roadster. Employed by Shelby American, Brock took on the challenge of designing a car that could beat Ferrari on the long straights of the Le Mans circuit. The result was the Shelby Daytona Coupe, a car that improved the aerodynamic flaws of the open-top Cobra and became a formidable competitor in endurance racing. Brock's design won the GT class at Le Mans in 1964 and went on to become one of the most iconic American race cars ever built.
Dan Gurney

Dan Gurney was born on April 13, 1931, in Port Jefferson, New York, and grew into one of America's most versatile and successful racing drivers. Gurney's illustrious career spanned multiple disciplines, from Formula One and NASCAR to IndyCar and sports car racing. A tall driver with a gentlemanly demeanor, he was both respected and admired by his peers and fans alike.
Dan Gurney had a multi-faceted relationship with Carroll Shelby and Shelby American. Gurney raced various Shelby cars, including the Cobra, in international competitions. He was part of the Shelby American team that contested the 1964 Le Mans race in the Daytona Coupe and partnered with A.J. Foyt to win the 1967 Le Mans race driving a Ford GT40, a project with which Shelby was also involved. Gurney's talents behind the wheel, along with his contributions to car development, make him an important figure in the history of Shelby Cobra and other Shelby racing endeavors.
Bob Bondurant

Bob Bondurant was born on April 27, 1933, in Evanston, Illinois. He was initially inclined toward motorcycle racing but switched to auto racing in the late 1950s. Bondurant gained prominence in American motorsports, racing in various categories including sports cars and Formula One. He was particularly known for his skill in endurance racing, a talent that would make him invaluable to teams like Shelby American.
Bob Bondurant was one of the key drivers for the Shelby American team, especially in the 1965 racing season. Bondurant drove Shelby Cobras and Daytona Coupes in multiple international competitions, contributing significantly to the team's successes. Notably, he was a part of the Shelby American team that clinched the 1965 FIA World Sportscar Championship, a first for an American team. His association with Shelby didn't end on the racetrack; Bondurant later founded a high-performance driving school, where many Shelby cars have been used as training vehicles.
Dave MacDonald
Dave MacDonald was born on July 23, 1934, in El Monte, California. He was an American race car driver who made a name for himself in sports car racing during the early 1960s. MacDonald was a fierce competitor and was especially known for his driving prowess in Corvettes before switching over to Shelby American.
Dave MacDonald was one of the first drivers to race the Shelby Cobra in competition. MacDonald's performances in the Cobra helped establish the car's racing credentials, earning it early successes that contributed to its legendary status. Although his life was tragically cut short in a crash at the 1964 Indianapolis 500, MacDonald's early contributions to the Cobra project and Shelby American were significant.
Allen Grant

Allen Grant was a sports car racer from the United States who became one of the six original Shelby American Cobra drivers. Although not as famous as some of the other names on this list, Grant's contributions to the Shelby Cobra's racing history should not be overlooked.
Allen Grant was deeply involved in the Cobra's racing activities and played a role in its early successes. He was part of the team that competed in various endurance races and contributed to the car's reputation as a formidable racing machine. Grant later transitioned to a career in the automotive industry but remains a notable figure in the Cobra's racing heritage.
The Cobra's Last Lap: An Unending Journey Forever in the Fast Lane

As the sun sets on race tracks and the roar of Cobra engines fades into the evening, the legacy of these automotive titans continues to reverberate through the very fabric of American culture. Their dreams were forged in steel, powered by horsepower, and immortalized on circuits around the globe. The Shelby Cobra is not just a car; it's a testament to human ingenuity, a tribute to the art of the possible when boundless imagination meets relentless determination. From Shelby to Miles, from Remington to Brock, their individual contributions coalesce into something far greater than the sum of its parts—a living, breathing monument to American ambition, one that doesn't sit in a museum but rather, races through our memories, forever altering the landscape of what we dare to dream.